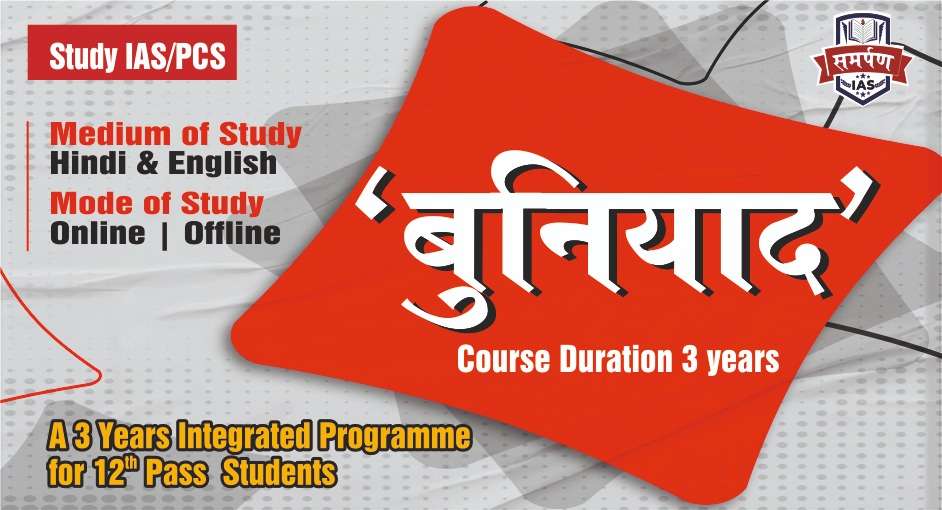 If you are a 12th-pass student looking for IAS courses after 12th, the "Buniyaad" course offered by Samarpan IAS Study Circle is an excellent option. Our course is specially designed to provide a strong foundation for students aiming to crack the UPSC Civil Services Examination.
Our "Buniyaad" course is available in both Hindi and English languages, ensuring that students can choose the medium of instruction that is comfortable for them. We also offer an online option for students who are unable to attend our regular classes due to personal commitments.
The IAS course fees for our "Buniyaad" course are reasonable and affordable, making it accessible to a wider range of students. We provide updated and revised study material complemented by the notes provided by our experienced faculty members. In addition, we conduct regular doubt-clearing sessions and intensive training on developing better answer-writing skills to prepare our students thoroughly.
The comprehensive coverage of both the Preliminary and Mains syllabus of the UPSC Civil Services Examination starting from the basics that are NCERT ensures that our students are well-prepared to face the highly competitive examination. Our innovative teaching methodology includes the use of audio-visuals, PowerPoint presentations, and other interactive modes of learning platforms, making the learning experience interesting and engaging.
Enroll in our "Buniyaad" course and start your journey towards becoming a successful civil servant. With our affordable fees, innovative teaching methodology, and a comprehensive curriculum, you can be sure of getting the best possible preparation for the UPSC Civil Services Examination.
| OFFLINE | ONLINE (LIVE) |
| --- | --- |
| 1,35,000 (45,000 PER YEAR) | 90,000 (30,000 PER YEAR) |
Samarpan IAS Study Circle understands the financial constraints that many students face when pursuing their dreams of becoming an IAS officer. Therefore, we offer flexible and affordable fee structures for our courses. The Buniyaad course, which is designed for 12th-pass students who are aiming for the UPSC Civil Services Exam-2026, has both offline and online options.
The offline course fee is INR 1,35,000, which can be paid in three installments of INR 45,000 per year. On the other hand, the online course fee is INR 90,000, which can be paid in three installments of INR 30,000 per year. We believe that every student should have access to quality education, and our fee structure reflects our commitment to making education accessible to all.
There are no additional charges apart from the course fee. All the study material and resources required for the course are included in the fee. Our transparent fee structure helps students plan their finances accordingly and enables them to focus on their studies without any financial worries.
Clear Your Doubts with Expert Assistance